As of November 15, 2022, we are now 8 billion on Earth. Discover the key dates and future of world population through demographers' big data projections…
That's it: According to the UN models The world population has reached the milestone of 8 billion on November 15, 2022. Humanity has grown by a billion in just 12 years, starting from a planet that had only 2 billion people less than a century ago. The population has doubled since 1974…
This day was called " day of the eight billion » (Eight billion day) through the organization. Patrick Gerland, who directs demographic work at the United Nations Population Division in New York City, rather it is an approximation and a symbolic number. We may have passed that milestone, or we may pass it a little later, but humanity is now approaching 8 billion ".
Much more reliable data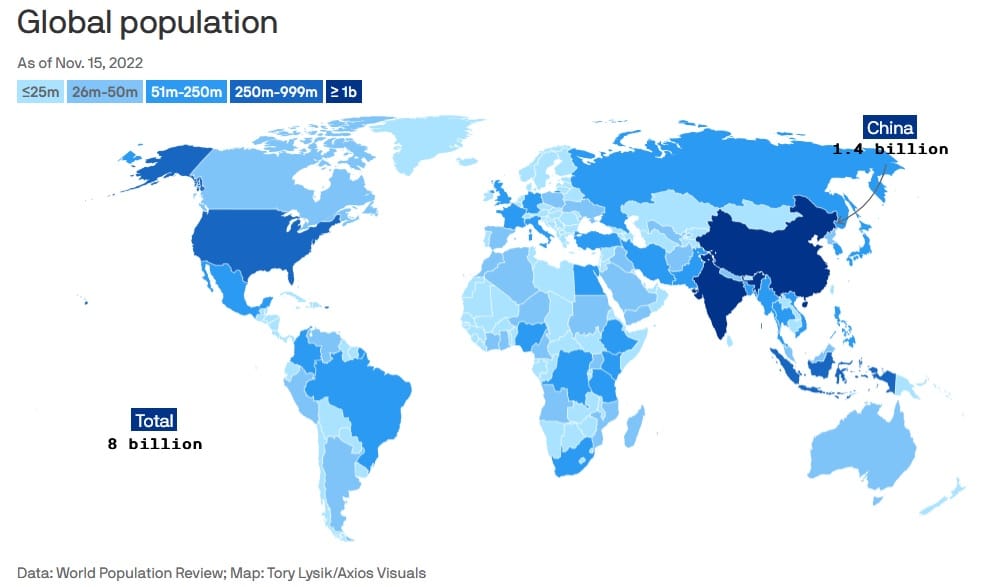 Despite the approach this estimate is the most reliable previously produced by the United Nations. The company recently changed the way it analyzes data, and with good reason. Instead of performing an analysis every five years, the data is now crawled every year.
Aside from that, the ability to collect statistics has improved significantly in many countries in recent decades. However, some gray areas remain, particularly in countries facing humanitarian crises and conflicts such as Somalia, Yemen and Syria.
It should be noted that half of the world's population is distributed only 7 countries : China, India, USA, Indonesia, Pakistan, Nigeria and Brazil.
Human growth is slowing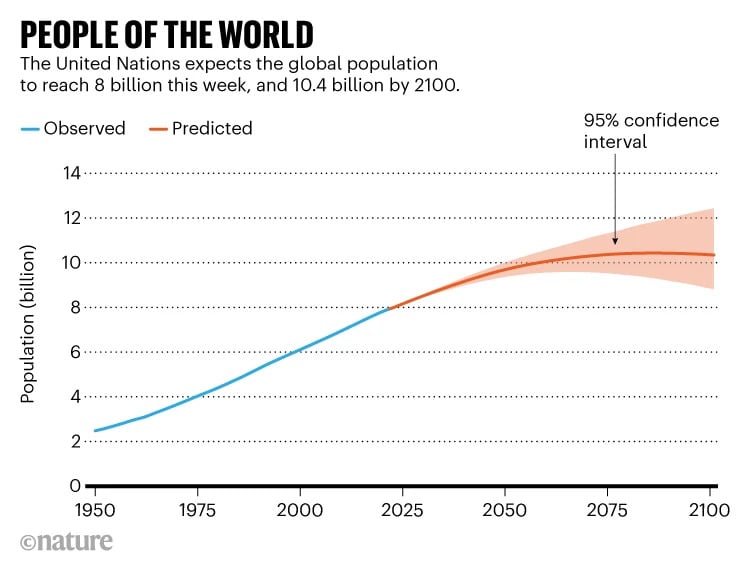 Where are we going now? How will the world population change in the coming years and how many people can the earth still support?
According to the latest population data update published by the United Nations in July 2022, long-term forecasts are no longer valid from 11 billion people to 10.4 billion for the horizon 2100.
Although the human population has been growing rapidly, demographers agree on one thing: this growth is slowing. In a few decades, our numbers will decrease.
Fertility rate: the apple of discord
The rapid population growth in the 20th century was mainly driven by Advances in public health and medicine, allowing more children to survive to adulthood. At the same time, fertility rates, ie the average number of children per woman, remain high in poor countries.
That Fertility rates are especially important for population forecasts. Because of this, the differences in how these rates are estimated lead to divergence between the different models used to predict world population for the year 2100. These predictions vary from 8.8 billion to 11 billion.
As Tomáš Sobotka, a specialist at the Institute for Demography in Vienna, explains: " Small adjustments in the course of the fertility rate can accumulate, and suddenly a big country can have 100 million additional people in 80 years ".
In 2018, the International Institute for Applied Systems Analysis (IIASA) in Vienna predicted a world population from about 9.5 billion in 2100. Now the institute is preparing an update that increases its estimate to between 10 and 10.1 billion.
This change is on an observed and expected survival rate higher among children in poor countries. Another factor is an increased estimation of the fertility rate in some large countries like Pakistan.
Against the collapse of the Chinese population
The United Nations, for their part, have updated their forecasts below Chinese data improvement since the end of the one-child law in 2015.
So far, the various Chinese data sources have often been contradictory. Some Parents did not register births, especially if they had a daughter. For this reason, many children only appear in the official statistics when they start school.
Demographers therefore had to turn to education statistics for more accurate statistics. According to United Nations forecasts China has already peaked and will decrease from year to year at least until the end of the century. There are already more deaths than births in this vast Asian country.
Many challenges await mankind
Despite this massive increase in world population, people are living longer and enjoying better access to health, food and clean water. That Percentage of people living in extreme poverty (less than $2 a day) has declined from 44% in 1974 to 10% today, according to GapMinder data.
However, many challenges remain climate changeThe influence of the Covid-19 pandemicand a record number of displaced people.
More 100 million people were displaced by force, especially after the Taliban conquest of Afghanistan and Russia's invasion of Ukraine.
Additionally, There is still famine in the Horn of Africa. International aid organizations have recently struggled to find enough resources to deal with numerous crises and conflicts.
According to the Executive Director of the United Nations Population Fund (UNFPA), Natalia Kanem, It is a key moment for humanity ". She assures that " the high number of human lives is not a cause for concern ". A determined response to people who fear overcrowding leading to shortages of vital resources…