GIGABYTE releases its new server motherboards and latest server solutions that support AMD's newly introduced Zen 4 architecture for even more impressive performance across the board.
The brand new line of AMD EPYC 9004 processors for servers is coming and the renowned manufacturer GIGABYTE takes the opportunity to renew its offer. This latest generation is based on a new x86 platform, a new socket and moves to the famous Zen 4 architecture, which integrates increasingly advanced features and technologies, promoting improved performance and the processing of demanding workloads. GIGABYTE has already released 22 AMD Zen 4 compatible servers and motherboards, each with a variety of socket options (single or dual).
What specifications for the AMD EPYC 9004?
With the 4th Gen EPYC processors, AMD is moving to 5nm engraving, a process that increases performance while improving the chip's power efficiency, and moving to a new SP5 socket. This platform upgrade targets supercomputing, artificial intelligence, cloud, big data, and general enterprise computing, with improvements in security features as well.
The main technical characteristics of the AMD EPYC 9004 processor family are as follows:
Up to 96 cores and 192 threads
Maximum clock frequency up to 4.4 GHz
Up to 384MB L3 cache
Compatible with DDR5-4800 memory on 12 channels
5th Gen PCIe support
And who says processor change says evolution of the material that accompanies it, starting with the motherboards and the waiters.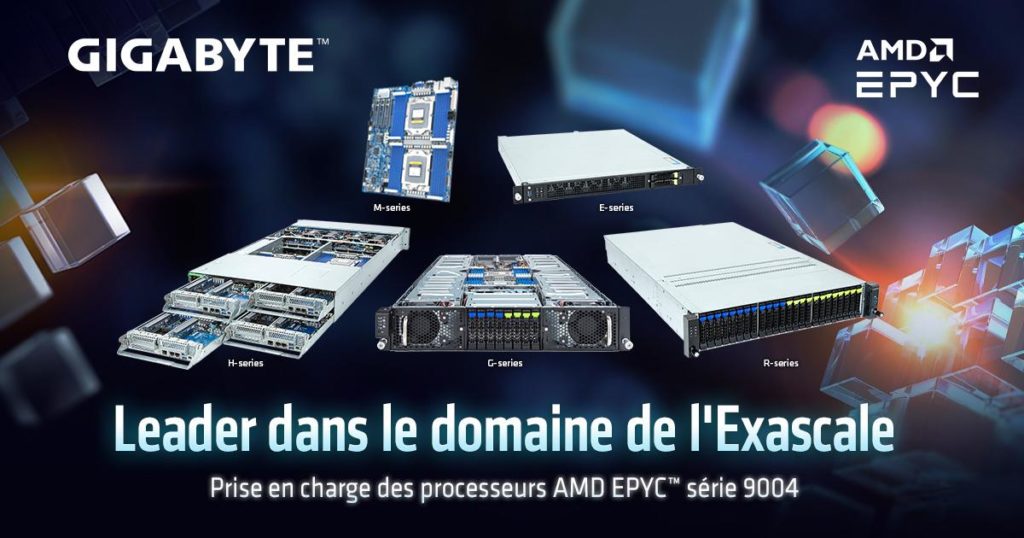 M series motherboards
GIGABYTE's new M-series motherboards are available in single-socket or dual-socket versions. They are compatible with 4th generation NVMe SSDs, with PCIe 4.0 and 5.0 interfaces and with the full range of 4th generation AMD EPYC processors from 16 to 96 cores.
The E-ATX models MZ33 and MZ73 have 24 DIMM memory slots. The MZ73 comes in two variants: the LM0 with four PCIe 5.0 x16 expansion slots and the LM1 with PCIe 4.0 x16 slots. GIGABYTE made this choice to satisfy those who need the best GPU performance that PCIe 5.0 allows, as well as those who are still equipped with PCIe 4.0, by far the most widespread standard today.
R-Series Rack Servers
These universal one- and two-socket solutions offer a balance of processing power, memory, storage and scalability. They house slots for 2.5″ or 3.5″ hard drives, and some models, including the R263-Z33 and R283-Z93 servers, are compatible with dual-slot GPUs. The R283 is available in several variants and, depending on the version, has 24 DIMM slots, two 1 Gbit/s LAN ports, 12 or 24 3.5″ inputs and 2 or 4 2.5″ inputs . Depending on the reference, the server is powered by a dual 1600W, dual 2000W or dual 2400W power supply.
G Series GPU Servers
Engineered for intensive compute, AI, and high-performance parallel processing, G-Series servers benefit from a design and thermal capabilities tuned to maximize GPU capabilities. The new 2-socket 2U server G293 thanks to all its connectors (PCIe 4.0 x16 or PCIe 5.0 x8) is able to integrate up to eight GPUs and has a LAN speed of 10 Gbps. For maximum efficiency, it uses a dual 3000W titanium power supply tuned for the power it needs to generate to quickly complete complex processes simultaneously.
H Series high density 4-node 2U server
These multi-node servers offer a good compromise between CPU processing power and storage capacity. They are especially designed for intensive computing and for hyper-converged infrastructures (HCI). The H273 is available in three variants, of which the best equipped H273-Z82 has 24 bays for 2.5″ hard drives, all placed on the front of the case for easy access. It can also house up to eight CPUs with a power of 400W thanks to its advanced cooling system.
E-Series Edge Servers
This type of server has the peculiarity of being flat and is particularly well suited to an infrastructure that is not a data center. With their characteristics and positioned at the edge of the network, the E Series servers enjoy very low latency. GIGABYTE also launched its first-ever 2-socket E-series server, the E283-Z90.
Remote and multi-server management
GIGABYTE makes available to its customers its management console, available through a web browser, as well as its server management software to remotely manage and maintain all servers purchased without having to pay any fees.
This article was written in cooperation with Gigabyte.